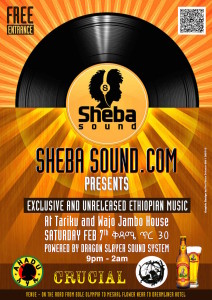 Exclusive and unreleased Ethiopian music from the Sheba Sound vaults, played over the mighty Dragon Slayer Sound System. Come and dance to modern Ethio tunes, remixes and live music that you've never heard before!
Tariku and Wajo Bar and Restaurant
Meskel Flower Rd, near Dreamliner Hotel, about 200 meters towards Olympia
Saturday 14 February
6pm
Featuring sounds from far-flung parts of the country – from Tigray to Gambella to the Southern Nations – given a contemporary twist by producers such as London dub-master Nick Manasseh (Tiger Lily Productions, Roots Garden) and DrumTalk (Sofrito, Soundway, Huntley's and Palmers). With support from DJ Mitmitta from 6 til 8.