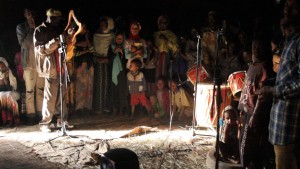 This extended Dub mix produced by Sheba Sound showcases the traditional song 'Yisare Hinena' sung by Nebiyu Hamdi; recorded in Welkite, Ethiopia in 2015. The original mix can be found on the recently released album 'Out of Addis.'
The Dub mixes showcased here were made by UK Dub producer Nick Manasseh, (Tiger Lily) with inspired overdubbing on electric guitar by Corentin Seznec. The funky bass lines were recorded in Addis Abeba, with Dawit Seyoum on bass krar.
We've given you a half hour extended mix here, as once the groove is locked down with the festivities, the same song can run for hours!
Sabat bet bahil band
Krar: Ato Belay Geber Michael
Kebero: Sentayhu Belay